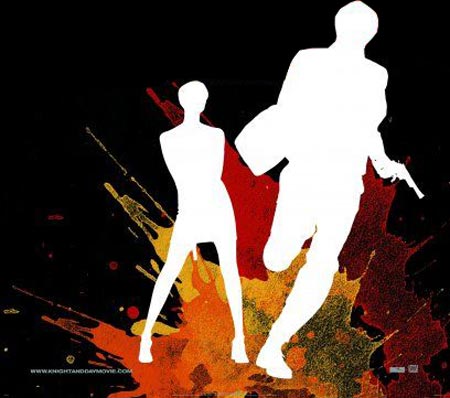 Agent Ocelot Becomes the Cause of a Near Catfight
July 31, 2010
Headquarters of S-HIT. Continued from here.
STELLA
Keith talks about you a bit. And you do call the office quite often. You do realize Keith normally keeps his phone on speakerphone.
NINA'S MESSAGE (V/O)
Hey Keith-y-poo, I just got back from the grocery store and I've got a package of hamburgers and a can of whipped cream with your name on it.
NINA
I did not know he did that. Keithy dear, are you ready to go home?
KEITH
Let me go get briefcase.
KEITH exits. NINA walks over to DOREEN.
NINA
Excuse me. Could Stella and I have some girl talk time?
DOREEN
Sure. I need to get some more gauze anyway.
NINA
Actually, if everyone could please give us a moment?
PETER
Cat fight.
IRA
Mrow.
NINA shoots him a dirty look. STELLA can barely contain her laughter.
NINA
Please?
PETER and IRA return to their Petrie dish. DOREEN looks through her desk. MITCHELL writes. But everyone keeps one ear on STELLA and NINA.
NINA
So. Stella.
STELLA
So. Nina.
NINA
You work with Keith. You're his colleague.
STELLA
I'm his partner.
NINA
Please call yourself his colleague. Partner sounds unsettlingly domestic.
STELLA
I'm his colleague.
NINA
Thank you. Oh, your bracelet is absolutely darling. Where did you get it?
STELLA
Spencer gave it to me.
NINA
Spencer?
STELLA
My former... colleague. We were really close.
NINA
Really.
STELLA
You know, when you spend so much time with someone in such harrowing, life-threatening situations, it really forces you to become close to someone.
NINA
Are you and Keith very close?
STELLA
Not as close as Spencer and I were.
NINA
Were?
STELLA
Spencer… Long story. Keith and I still have a while to get to the point Spencer and I ended at.
NINA
What point was that?
STELLA
We were sleeping with each other.
KEITH walks in.
KEITH
Can you drive home?
NINA
Sure.
NINA walks over to KEITH. She pulls the keys out of her cleavage and dangles them in front of his eyes.
NINA
Let's go babe.
She smacks his butt. He looks at her exceptionally confused. He looks to STELLA for an answer. She just shrugs smugly. KEITH and NINA exit.